Welcome to our web site, and our farm. We have been raising llamas since 1999, and love every minute of it. Our farm started out in Pleasant View, Indiana, but has now been re-located to Duanesburg, NY (just outside Albany).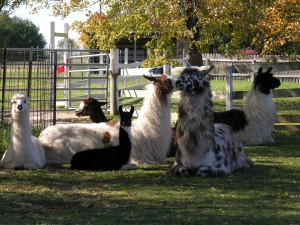 Our llama journey started in 1997, when our family traveled to the Three Sisters Wilderness in central Oregon. We rented three llamas for our backpacking trip, and immediately fell in love. Two years later, in the Wind River Range of Wyoming, we rented two more llamas. After that trip, I (Emaly) told my parents that I just had to have one. I had always wanted a horse to put on our 4 acre mini- farm, but my parents never agreed. After spending time with the llamas on the trail, they agreed to look into the possibility of purchasing one. On the way home, we purchased a book about llamas, and I read it all the way home. In August we started visiting farms in the area. We found a sweet little paint female, Casa Loma's Little Sheba, in Mooresville, IN, and absolutely fell in love. Needless to say, Sheba became our first llama. After visiting a few more farms, we purchased another female and two geldings.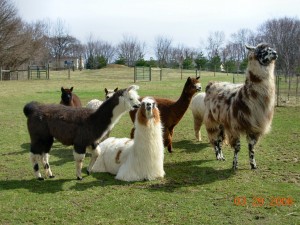 Well, llamas are like potato chips- you can't have just a few. So, in the spring of 2000, we purchased another bred female and her cria. In May, our first cria was born. Hannah (my younger sister) and I started 4-H that spring as well. The rest of our first year with llamas was filled with shows, and eventually another cria.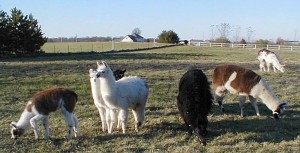 And the rest is history, or so they say. Over the years, we have purchased and sold llamas, and have had several crias born on our farm. We also moved to a bigger farm, so the llamas (and the family) could have more room. More recently, we have opened up a small fiber business, specializing in knit and woven scarves, as well as llama and angora rabbit fiber. We also purchased a few alpacas, who provide fiber for our growing business.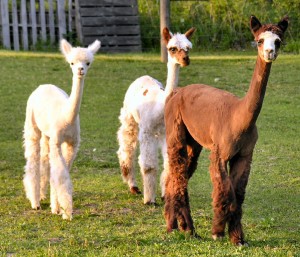 Please take a look around at our web site. Our llamas are a huge part of our lives, and we would love to share them with you. Farm visits are highly encouraged, but please call or email us to set up an appointment. Thanks for stopping by, and welcome to the wonderful world of llamas!