We pride ourselves in offering well-rounded, high quality llamas for sale.  We are happy to help you find the ideal llama for your nees, even if it isn't at our farm.  Please contact us for help in your search!
Updated 3/26/20
Autumn Hill's Storms in our Hearts
SRLL Tyrell x MSF Sweetheart
Male
DOB 6/30/19
FOR SALE! $1500
This sweet boy has a lot going for him, and is the epitome of an all-around llama!  He has fantastic bloodlines and champion parents, gorgeous fiber, and a great personality.  Show him and use him as a breeder in a year or two, or geld him for a fabulous performance partner!
MHF Thanks to Tay
Stage Stop Mothra x Hearts and Flowers
Gelding
DOB 5/5/18
FOR SALE! $1500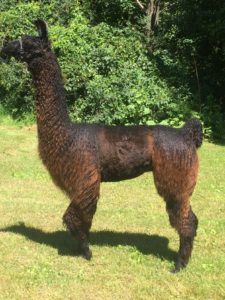 Tay is going to make someone a spectacular show gelding!  His conformation is spot on, and he is sweet and easy to handle.  Plus suri fiber that any fiber artist would love!
We would also consider reasonable offers on any of our breeding females.  Please contact us for more information.